Well it's that time of year Fantasy Football is here! We have seen more and more people participating in Fantasy Football each of the last ten years. Fantasy Football is here to stay. This is the second installment of my Fantasy Football rankings for Sport City Chefs! After tackling the QB's, I feel blitzing the TE should be next. I have received alot of questions about the TE position this year. When studing the TE position this year there is alot of question marks that have not been there in years past.Antonio Gates a lock, as the number one TE for the last 4 years. Has had some injury concerns over the last few seasons which could drop his value this year. Dallas Clark the Colts TE is also recovering from injury, and Manning(the Colts QB) could miss a few games himself.The reality is, that many of the guys who are considered top five fantasy TE this year, will have question marks surrounding them. I have looked at many different stats to compile my list of the best fantasy TE for 2011. My list may look vastly different, than the so called "experts". That is because I don't follow what others do. I try to give you the best insight possible for you the fantasy players who are looking to compete at a high level.
 With out much further jargin, I will get to my rankings. I just want to thank the staff and the readers, for making this column so sucsessful. With you guys and gals, none of this would be possible.Now on to the Rankings….
1) Jason Witten – The Dallas product finds himself atop my fantasy football projections here at the TE spot. I know most will gasp but here is a little food for thought. Witten found himself as the #1 TE in fantasy football last season despite the fact that Tony Romo the starting QB in Dallas was out after week 5. Witten may not have the upside of guys like Gates, Davis, Finley, and Clark, but he is more consistent and healthly. A combination that is a must for fantasy studs. Also Witten scored 6TD's over the last five games which shows that Witten is the guy Dallas favors in the red zone. The real difference for me is that Witten is a constant contributor week in and week out. Witten has not missed a start since 2006. An actually he played in that game, he just did not start. My point?? you can rely on Witten. One more stat to put you mind at ease here. Witten's number of targets in the red zone have went up each of the last three years. Meaning even in this high octane offense with weapons everywhere, Romo still prefers Witten when it matters most. Projection: 98 catches 1088 yards  13 TD's
2) Antonio Gates – What can be said about the man who is always considered the #1 TE in fantasy football? for me the foot injury he suffered last season is just to scary to draft Gates where you would need to select him. Gates is going on average in the mid third round range. Way to high for a man who has battled foot injuries in 4 of the last 5 seasons. I will admit though that up until last season Gates had never missed more than one game due to the foot issues. Could this be a sign that Gates health is deteriorating ? Maybe, but he is still a monster in fantasy football. Before becoming injured last season, Gates was on track to shatter his career highs in both TD's and receiving yards. His pace you ask?? How about 1326 yards and 18 TD's. Those type of numbers would rank Gates as the top WR as well as TE. The talent is there no doubt, but investing a high pick in a guy who has missed time 4 of the last 5 seasons due to injuries is a risk. Are you willing to gamble?? Projection: 72 catches,  1044 yards, 12 td's
3) Vernon Davis – Many will say this is where Dallas Clark belongs. I say to them, that they have not seen Vernon Davis this offseason, nor have they seen the new Jim Harbaugh (TE friendly) system. Davis is sure to get a lot of looks in the new offensive scheme that the former Stanford HC is installing. With the addition of Braylon Edwards, and Delaine Walker (#2 TE) on the field more. Davis should have more room to maneuver in 2011. Davis and Gates currently hold the record for the most Td's in a season at 13. I think Davis has a chance to eclipse that mark this year. Rare combination of size, speed, and maturation have all come together here. Projection: 82 catches, 1008 yards, 14 Td's
 4) Dallas Clark – In doing research for this article a couple things I found interesting about Dallas Clark. First he is known as a receiving TE. Meaning in run situations he comes off the field a lot. something that we do not see with a lot of the other top tier TE's. This definitely hurt him in my rankings. Also unlike most of the other top tier TE's, Dallas Clark has only had more than 850 receiving yards once, and more than 10 TD's twice.What does this mean to you the fantasy player?? despite the fact that Dallas Clark is considered one of the best receiving TE, and he has arguable the best QB in the history of the game throwing him the ball he is still not dominate. I like Clark, but at this point in his career with where you would have to draft him I think Clark may disappoint. Projections: 81 catches, 799 yards, 6 TD's
5) Jermichael Finley – Coming of a torn meniscus in his knee is not a easy injury to recover from. Finley like Vernon Davis is a physical freak for the position. He plays in a pass happy offense in Green Bay and has a all pro QB in Aaron Rogers. So why is he not rated higher on my list?? I think the process to acclimate Finely back as a receiving threat will be a slower process than most think. Finley should have a solid year and the second half of the year should be better than the first half.Another guy who is often over drafted in fantasy circles because of his upside. I like Finley but I am cautiously optimistic.Projection: 54 catches 766 yards 7 Td's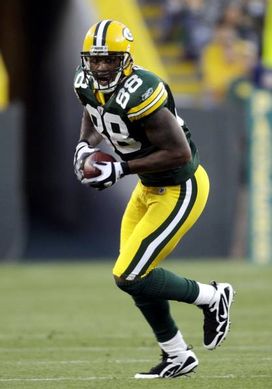 Sleeper – Owen Daniels
 Many who know me, know that I believe in Daniels. Apparently so do the Texans who gave Daniels a 4yr 22mil with 13.5mil paid in the first two years. Not the kind of contract you pay a guy if your concerned with injuries to the knees. Daniels got off to a very slow start in 2010 mainly because he was still recovering from the torn ACL injury he suffered back in 2009. Daniels production did get better as the season wore on, and by the end of the season. Flashes of what makes Daniels a great TE were apparent. Over the final four weeks of the regular seasons, Owen Daniels had 22 catches, 271 yards, 2td's not bad at all from the TE position. If you were to expand those numbers out over a full season you would be looking at 88 catches, 1084 yards, 8td's.Right now Daniels is being drafted on average in the 7th round. If Daniels produces like I think he can, you will have stolen a top 5 TE at a top 15 TE price!